RFID - A Revolutionary Technology
RFID (Radio Frequency IDentification) is the hottest technology in the auto-ID industry. In 2004 Bill Gates declared RFID to be "revolutionary" and WalMart mandated their suppliers to use RFID on all merchandise. System integrators, equipment vendors, label manufacturers and tag suppliers all heralded their products as the be-all, end-all solution to your supply chain and auto-ID needs. But as with all emerging technologies, it has taken time for the reality to match the hype.
Today RFID is a viable technology that offers great benefits. But to succeed requires a detailed knowledge and hands-on experience with this new technology. Should you use passive or active tags? LF, HF, VHF, UHF or microwave? Monopole or bipole antennae? What about read distances? Material interference? And the list goes on and on...
According to Business Week, "...there are fewer that 1000 qualified IT professionals available world wide who understand and know enough to deploy and service RFID technology." Marymonte Systems is in that rare group who has the expertise to implement successful RFID solutions. And we have the satisfied customers to prove it.
From Plates Of Sushi To Semi-trailer Loads Of Herbs
Marymonte Systems has tackled such diverse requirements as controlling the freshness and safety of exquisitely prepared plates of sushi to tracking semi-trailers loads of raw herbs. Each application required careful consideration of the customers process, equipment, environment, personnel, and overall data collection needs.
Sushi Freshness And Safety
Lucky Fish is a new chain of Kaiten sushi restaurants. For a Sushi restaurant, freshness is a paramount requirement. In a Kaiten sushi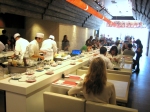 restaurant, food is prepared and placed on a circulating conveyor for the patrons to observe and to select. The dynamic of having the food on the conveyor prior to consumption raised the need to control the freshness and safety of that food. Lucky Fisn came to Marymonte Systems with this challenging requirement (Click here or on the Lucky Fish logo in the sidebar to read a detailed description or download our Sushi Fresh Control product brochure).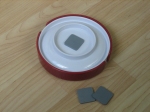 Using RFID chips on each plate, our system is able to not only insure that no plate exceeds its allowable freshness shelf life but to also collect valuable consumption trends for Lucky Fish's management. Now the sushi chefs can prepare food and place it on the conveyor with the confidence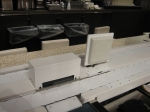 that only fresh plates will be allowed to remain on the conveyor AND management can review the consumption patterns to optimize sales and minimize waste.
Quality Control and Traceability
SupHerb Farms is a grower, processor and marketer of culinary herbs and specialty products. They needed a way to associate field harvest information with process QC data and finished goods lot codes. Marymonte Systems analyzed their needs and process to implement a load monitoring system that successfully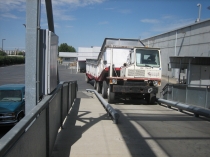 fulfilled their requirements. (Click here or on the SupHerb Farms logo in the sidebar to read a detailed description of their system). Now SupHerb Farms can track raw material from the harvest (farm, field, date and time) through processing, QC data sampling and final packaging with finished goods lot codes. Not only does the system aid in achieving the highest level of quality demanded by SupHerb Farm's customers, but the system also provides immediate and detailed traceability from the finished product to the specific field harvest should a recall or other problem arise. Additionally, SupHerb Farms can now monitor field performance, transportation processes and product handling to improve overall profitability.
Contact Us today to see how your opportunities can become realities. (Phone 408-927-0606 or email sales@marymonte.com)